Our Clinic:
CorDerm Advanced Dermatology and Laser Center is a Skin and Laser clinic in the heart of the Makati Central Business District. We specialize in more than the usual dermatology treatments. Aside from Dermatology consultations for different diseases of the Skin, Hair and Nails, we offer treatments for Acne, Scars, Stretch marks, Pigmentations such as Melasma and Freckles, Cellulites, Varicose Veins, Wrinkles and Aging skin through our state-of-the-art Lasers, Body Contouring machines and other Non-invasive equipments. Our in-house dermatologist is a Board-certified dermatologist with over 10 years of clinical experience. Our clinic staffs are licensed nurses, trained in performing and assisting in cosmetic dermatology treatments. At CorDerm Advanced Dermatology and Laser Center, you are assured that you will be provided safe, medically-proven and expert care.
Mission:
To provide the world class and scientifically-proven dermatological care to our patients;

To adhere to the highest standards of service quality and professionalism.
Vision:
To be the premier global destination for the treatment of all dermatological conditions and disorders.
The CorDerm Team: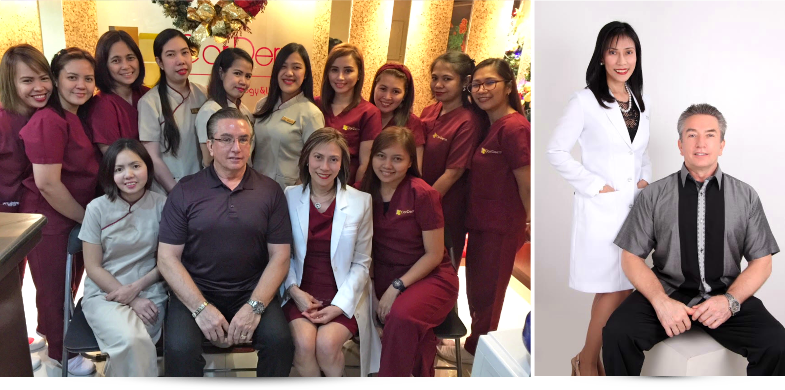 MARGARET PLAZA-CORCORAN, M.D., FPDS – Consultant Dermatologist




Dr. Margaret Plaza-Corcoran is a Board-certified dermatologist, a Fellow of the Philippine Dermatological Society (PDS), and International Fellow of the International Society of Dermatology (ISD) and American Academy of Dermatology (AAD). She is also a licensed Physical Therapist. She was born and raised in Manila, Philippines. Dr. Corcoran took B.S. Physical Therapy as her pre-medical course in University of Santo Tomas where she graduated Cum laude. She then pursued her Medical Degree in the same university and hurdled her Oral Revalida with the honor of Bene meritus. Dr. Corcoran took her Dermatology Residency Training at the Jose R. Reyes Memorial Medical Center. During her final year in residency training, she was the Chief Resident of the Department of Dermatology of the hospital. After graduation from residency training in 2002, she traveled extensively in the US and took further training in Lasers and Dermatologic surgery at the University of California-San Francisco under Dr. Christopher Zachary. She also trained in Cosmetic Dermatologic Surgery in Orchard Creek Medical Center in Mountainview, California under the tutelage of Dr. Greg Morganroth in 2003. In 2007, she underwent training in Laser Dermatologic Surgery for Ethnic and Asian skin in Ramathibodi Skin Laser Center in Bangkok, Thailand.

Dr. Corcoran keeps herself updated in the various breakthroughs in the field of dermatology, lasers and dermatologic surgery both locally and internationally. She is currently the Deputy Editor of the Journal of the Philippine Dermatological Society (JPDS). Dr. Corcoran practices the full range of Dermatology in patients of all ages, with special interests in Cosmetic dermatology, Lasers and Dermatologic surgery.

LARRY P. CORCORAN, RN – Clinic Manager




Larry Corcoran is a registered nurse in the USA. He was an ICU nurse in the USA for 20 years, after which he decided to settle in the Philippines. He is currently managing the clinic and imparting the US-standard of care to CorDerm Advanced Dermatology and Laser Center.